Chrysalis art consultancy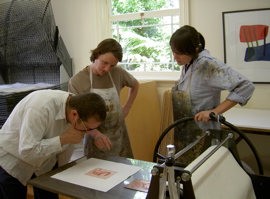 Our art consultancy service helps you to buy, display and care for contemporary Australian artworks of intrinsic and investment value.
Building your home collection
Home is a place to hang artworks you love.
We can help you to build a collection of contemporary artworks by practising Australian artists that you will cherish - quality work is also the best investment. And we can strengthen your existing collection by helping you with the framing, placement and installation of artworks in your home.
Relocating your artwork
If you've moved, we can adapt your collection to your new space - rethinking how artworks are framed or positioned may be all that's needed - or help you to select fresh artworks to complement your new surroundings.
We're happy to bring artworks to your home so you can see how they'll look in situ and show you a range of alternatives that will extend your comfort zone and clarify your preferences.
Building your corporate collection
An artwork is testament to an artist's vision but is also a powerful expression of the collector's identity.
We have extensive experience working within the financial, legal and hospitality sectors to help corporations acquire and build art collections that are of intrinsic value and which enhance their corporate identity and environment.
We also provide:
advice and services for documentation, cataloguing, storage and collection care
logistics advice including insurance, freight, framing, lighting and installation
Gifts and commissions
We can help you buy an artwork as a gift for a loved one or work colleague or provide gift vouchers for those who want to choose their own artwork. We also have expertise in commissioning artwork directly from artists to meet your particular specifications.
Our experience
Consultancy head Delwyn Freestone has been actively involved in the Australian art market for 25 years as a fine art print publisher and gallery director.
During this time she has worked closely with some of Australia's most celebrated artists and gained a deep insight into their art practice, ways of working and motivations behind their image making.
Delwyn also has extensive experience working with both novice and seasoned art collectors, helping them to realise their particular vision. In short, she is the perfect matchmaker, understanding your motivations as an art collector as well as those of the artists she represents.
Cost
We charge on an hourly, commission or project basis depending on your requirements, and work within budgets big and small. For more information please email Delwyn or call 03 9415 1977, mobile 0418 324 651.
Artworks are precious. Frame them, hang them, handle them with care: here's a short guide to caring for your artwork .
"Little wonder that I find myself wanting to make cheerful, untroubled prints - simple things from happy times - and that I want them to slip quietly into the world, to hang on the walls of homes and workplaces; to convey and impart something of the spirit in which they were created. Perhaps this is the art of cheerfulography."
- Michael Leunig