Making prints at Chrysalis Studio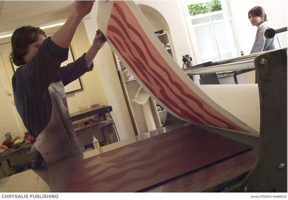 Artists create their images on "plates", drawing on them with lithographic crayon, or carving directly into the surface of the plate (such as cement sheet, particle board or linoleum) or when working on metal plates, using the action of acid to etch marks deep into the surface. They may also burnish and scrape the plate to remove some of the surface burr that holds the ink, adding contrast or lightening the image.

In screenprints the artist creates the image directly on the screens, in general terms one screen is made for each colour. The artist may prefer to draw the image onto draughting paper and then transfer from the image onto the screen using a film process.

The finished plate or screen is then inked up and a sheet of paper placed on it. It is then passed through the press and a single print is made
Once all is in place, the prints that together make up the total edition are individually made by the printer.
Proofing the colour is usually a slow working through of the many possibilities until arriving at the exact colour or colours that express the feeling of the image.
A number of Artist's Proofs (usually about ten) are produced in addition to the edition so that the artist, the printer and the publisher have a record of all the prints made. These prints are consistent with the edition. A Working Proof or State Proof indicates that the print is not consistent with the edition or is still to be worked on.

The works are printed on conservation standard papers: Somerset 300gsm, Waterford 356gsm, and BFK Rives 210gsm. These are all 100% pure cotton, acid-free papers which are chosen for their durability, texture, colour and compatibility with printing inks.